Martin® High-Performance Urethane
Martin® Urethane Blade Benefits:
Manufactured in-house for highest quality assurance
Specially-formulated, color-coded urethane to suit application
Up to 35% more urethane in the wearable area than competitive blades
High-performance urethane ensures product satisfaction
Backed by our Absolutely-No-Excuses Guarantee
Urethane
Color
Part Number Suffix
Durometer
Application Conditions
Temperature Range
Standard

Orange
OR
83
Suitable for most applications, including abrasive conditions and exposure to solvents or oil. For use with materials such as coal, ore, bauxite, coke, refuse. Suitable for 80% or more of all applications.
-20° to 160°F
(-30° to 70°C)
High Temperature

Green
GR
83
For use with high temperature materials such as clinker.
Continuous
-40° to 300°F
(-40° to 150°C)

Intermittent
350°F (177°C)
Chemical Resistant

Brown
BR
86
Improved resistance to chemicals and reduces water absorption for high moisture environments such as limestone. Best choice for applications exposed to chemicals with pH as high as 11 and as low as 4.
-40° to 160°F
(-40° to 70°C)
Low
Rigidity

Tan
CL
87
For use with dry products such as sand and gravel.
-20° to 160°F
(-30° to 70°C)
Low
Adhesion

Navy Blue
NB
91
For use with sticky or tacky products such as cement, glass and wood chips.
-20° to 160°F
(-30° to 70°C)
Squeegee

Teal
New
Specially formulated for use as a squeegee blade on Martin® H2O Cleaner.
(Not available in Primary Cleaner Blades.)
-20° to 160°F
(-30° to 70°C)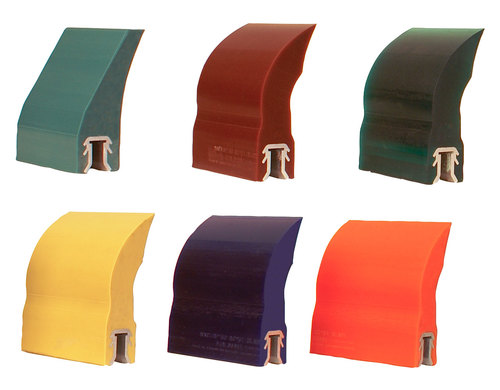 Our Belt Cleaner Replacement Blades Have the Best Price Per Performance Ratio of ANY Blades on the Market
When you need replacement blades for your belt cleaners, why settle for anything less than the longest-lasting, most-effective cleaners in the industry, when they are competitively priced and all backed by multiple guarantees?
You'll Find The Proof You Need To Compare Right Here
Wait! Consider Our Free Expert Assistance For Any Technical Decisions...
9 out of 10 customers benefit from our expert advice. We highly suggest you take advantage of this Free Assistance to ensure proper product selection and consideration of all components needed to solve your problem. Use the contact options below to get started!
Call Us Today
800-544-2947
Contact Us!
Call Today 800-544-2947
100% Money-back Guarantee
---